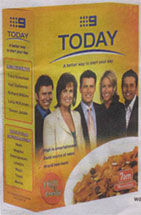 Yesterday's Radar in The Sydney Morning Herald had a nice big ad, I mean, article about Channel 9's breakfast program Today. Channel 9 have launched a new print campaign for the show featuring the Today team on the front of a cereal box, along with a bunch of wacky news based cereal puns, and cereal based news puns.
I don't (and until my soul is crushed completely by full time employment, will never) work in advertising, so I couldn't tell you how much cash the designers of that hilarious campaign earned. But I betcha it was more than $100.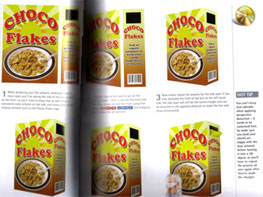 So I'm sure Channel 9 will be kicking themselves when they find out that they could have saved a bundle by doing what the designers did - purchase a copy of "How To Cheat In Photoshop" by Steve Caplin, and follow the 3 simple steps in Chapter 10's Building Boxes.
You don't even have to change the orange sunburst or anything. Just change that little black box on the side to the channel 9 logo, and hey presto - deadline met!