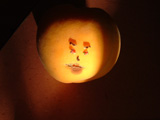 Yes, yes, yes... It's been a LONG time since the last post in the Earwax category. It's not that I haven't been doing any tracks - It's that I haven't been finishing them. I've explained about my attention span before, I'm sure.
Anyway, here I present to you a glitchy, bell-y piece I'm pretty happy with - I'd been toying with the ideas in it for a while, and plopped it out on the long weekend (which seems like it was oh-so-long-ago now).
It's called Happy (Hardcore). But it's not particularly happy or hardcore. And certainly isn't Happy Hardcore. Pffft. Whatever.
Download Happy (Hardcore) 192 kbps version - 8.3mb
[audio:http://www.mrspeaker.net/tracks/Happy (Hardcore).mp3]