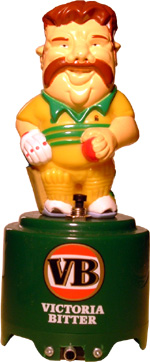 Well, it has truly it has been a gruelling experience. There have been astonishing highs, and borderline-dull lows - but the Reverse Boonjaneering has been complete. Da Boony Code is broken and I am now proud to present to you a review of the resurrected Controllable Talking Boon!
It was a sunny Thursday afternoon, the city was quiet. Yet I was nervous - My Talking Boony was about to go under the knife. Not very carefully I wrapped the lil' plastic hero in bubble wrap, chucked him in a box, and sent him off to Melbourne. A mournful drink was drunk in honour. It was in Tim's hands now.

Tuesday morning. The four days past had been tumultuous and ominously cricket-free. Then, on the fifth day, he rose from the post-pak. And there was much rejoicing.
But he was no longer an ordinary Boon. He now sported a couple of intriguing new features - a small switch on the front and push-button that sat in what was the void of his "microphone hole".
I switched switch. A brief period of silence then.... "Get me a VB, the cricket's about to start"... HE'S ALIVE!!!!! Cheers erupted in the kitchen! Next - the push button... "He's seeing them like watermelons" - More cheers!
There was much button-pushing and cheer-erupting done that day I can tell you.
Now, Boony is not a man to be told what to do - and while he'll be glad to have chat to you when you press the Boon-Button, Tim has wisely added another feature that lets the true character of Talking Boony shine through. If you hold down the button while you switch him on, Boony goes into "random mode". Every half-hour or so Boony will something across the room, filling your life with joy.
And so it is, that our Boonys may now live and talk forever - thanks to the brilliant surgical prowess of our lead reverse boonjaneerer, Tim.
Now, Tim is a man of the people, and his sole purpose in life (amongst other sole purposes) is to spread the joy of the Boon. You may be saying to yourself "Bringing Boony back from the dead... you can't put a price on that." And it's true. You really can't. Except for the low low price of $65 (including return postage)! That's right - while everyone else will be waiting around for a few days of Talking Boony V2 this season, you can impress your mates with a never-ending supply of Boonerisms.
Get in fast, 'cause this offer can't last! To get ordering, email Tim on gatekeeper_man@hotmail.com and don't forget to write back here to tell us all your tales of your new Mega Boon!