[English got you down? Try this post in Belorussian!]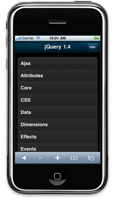 Welcome to the year twenty hundred and ten! As a very early christmas present, the jQuery team have announced they'll be dropping the 1.4 release on us in the next couple of days. They've also unveiled a new documentation effort.
To help you get your head around the reams of new information, I've created a neat-o reference app for your iPhone - so now you've got no excuse not to know what jQuery.noop, .nextUntil(), or .unwrap() does!
To install it, go here on your iPhone then click "+" and "Add to Home Screen" for fullscreen app-y goodness.

Please note! there are about 350 files to download, so installing will take a couple of minutes - and during those couple of minutes you can't let your phone fall asleep else Freddy will come your phone's WiFi will turn off and the files won't be cached.
The application uses the jQuery touch plugin to appear all native-y, and the offline abilities of HTML5 to store the data for when you feel like reading jQuery docs on the bus.
The material is taken from the new docs - which are being changed a lot at the moment, so I'll update this thing again when it all settles down a bit (I won't be doing constant updates, because I don't think you can invalidate individual files in the cache manifest, so you have to get all 350 files again for any changes).
I'm sure that at the moment some methods that will be missing or incomplete - because of my dodgy parsing, changing docs, and poor QA skills... fixed in the next version fo' sure ;)
That's it... go to http://www.mrspeaker.net/dev/jq/ref/ on your iPhone then click the "+" button and "Add to Home Screen" to install.